Meredith History Interest Group
Meredith, Victoria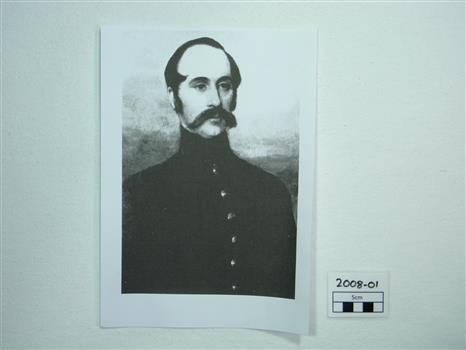 Photocopy of a painting - Portrait of William Dunbar Johnston
Meredith History Interest Group, Meredith
Photocopy of a painting of William Dunbar Johnston. Policeman with large moustache, black hair curled on right side, dark eyebrows, looking slightly to his left and wearing a police uniform
Historical information
William Dunbar Johnston was appointed sub-inspector of police in Meredith. He had a major drinking problem. He and another trooper were taking prisoners from Buninyong to Meredith but failed to realise their "loss' until they reached Meredith. He fell from his horse and died aged 37, had a lot of debts, had been widowed in 1853.
Significance
This item is significant because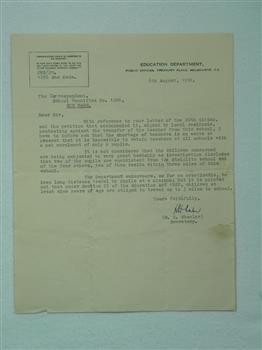 letter - letter fom D.H Wheeler to The Corrspondent, School Committee No. 1286
Meredith History Interest Group, Meredith
type written letter on paper, on a Education Department letterhead, dated 6th August 1951. Reply to a protest letter, regarding closing of the school.
Historical information
Reply to a letter written by the Secretary of the She Oaks, State School, who had summitted a petition against the closing of the school, as they were down to 6 pupils. The Education Department claimed due to a shortage of teachers, the schhol would close.
Inscriptions & Markings
signed by D.H Wheeler, Secretary, Education Department. She Oaks underlined.