Kew Historical Society Inc
Kew, Victoria
Kew Historical Society was founded in 1958.
Links
Contact Information
location

PO Box 175 Kew Victoria 3101
Opening Hours
1. KHS Office & Archive - 1 Civic Drive, Kew VIC 3101. Wednesdays 10.00am - 4.00pm / 2. Exhibitions & Public enquiries - 188 High Street, Kew VIC 3101. Fridays & Saturdays 11am - 1 pm.
Entry Fee
Free entry
Location
1 Civic Drive Kew Victoria
The Kew Historical Society was founded in 1958. Its extensive collection of audiovisual resources, costumes, textiles, books, documents, maps and artefacts have been donated by individuals, families, groups and institutions (including local government) over a sixty-year period. The Society was declared a Class-B Place of Deposit for Government Records in August 2019. The collection includes items of local, statewide and national significance (Russell E, Significance Assessment, 2018) and in 2019/20 received a further grant for a Preservation Needs Assessment from the National Library of Australia. These records are digitised by the Kew Historical Society on Victorian Collections for the purposes of education and preservation. If you believe that we have infringed your copyright please contact us and we will remove the material from the site.
Significance
The collection as a whole fulfills the criteria for very strong historical, aesthetic and research significance at a local level. It also has many outstanding associations with state themes, figures and events and quite a few that resonate at a national level. The costume and textiles, map and picture collections each have very strong historical, research and aesthetic significance of their own accord. The degree of their significance is greatly enhanced by all of the comparative criteria: interpretive value, provenance, condition, integrity, rarity and representativeness.

The costume collection has a very high degree of aesthetic significance for its beauty, quality and workmanship. There are some items that are associated with nationally significant designers, or with Kew donors who have made an impact on society at a local and a state level (ie Prue Acton, Jinoel of Melbourne, Oggi Fashion House). The strong degree of provenance and high quality of the design and dressmaking that went into the production of these clothes strengthens the research significance of this sub-collection for those interested in fashion, textiles and dressmaking. This costume collection includes items that date back to the 1850s (patchwork Denbigh quilt) through to the 1980s, and that reflect changing styles, technologies, textiles and production methods.

The picture collection has some items that have high local significance such as the Josiah Barnes photograph 'Kew proclaimed a city', which was taken on that day – 10 March 1921, and the 'Unveiling of the Kew War Memorial' on August 30 1925 in front of an audience of over 5,000 people and presided over by the Kew Mayor and the Governor of Victoria. Both of these important images also have significance to state and national processes of municipal development and memorializing war. The mayoral portraits (part of the picture collection) have a very high degree of historical and research significance for their associations, enhanced by strong provenance and technical qualities. Eminent photographers took many of the portraits and the subjects are people who have made a significant contribution to the welfare and development of Kew and, in the case of some of the Mayors in this collection, of the state or even the nation. This includes people such as Stanley Argyle (Premier of Victoria 1932-35) and William Kerr (influential businessman and federal government advisor in the early decades of the 20th century). The significance threshold of this sub-collection is therefore likely to be of state significance at the least.

The maps and plans number some 300 or more and include some fascinating and important maps beyond the MMBW sub-collection that, itself, holds some unique items and has been discussed at length in this report. Other much earlier and hand drawn maps such as 'Back to Kew' (c.1875) and 'Site of the first house in Kew Central' (undated) are historically fascinating. In the case of 'Back to Kew' it is the detail of the built, natural and social landscape of Kew, which was also annotated and added to several times in subsequent decades to show the development of the area. In the case of 'Site of the first house in Kew Central' it is the careful recording of the garden layout and the nature of domesticity in these early days of European settlement that is both fascinating and rare to find in any local history collection. While not all the items are original the map and plan collection has a very high degree of historical and research significance.

Provenance for much of the collection is strong, and therefore supportive of its historical, research and interpretive value. Certainly the interpretive capacity for understanding a detailed and nuanced history of Kew on many levels, as well as touching or reflecting on wider stories on a state or national stage is very high.

Russell, Emma, 'Kew Historical Society Significance Assessment | Collection', [email protected], 2018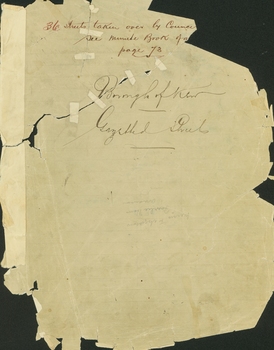 Document - Borough of Kew - Gazetted Streets [1865-1937]
Kew Historical Society Inc, Kew
27-page document compiled by officers of the Borough, Town and City of Kew, listing the names of streets taken over by Council, and providing details of their naming and gazettiing. The document covers the period of 1865 to 1937.
Historical information
The Melbourne suburb of Kew gained independence from the Boroondara Roads Board in 1861, being declared a Municipality in that year. Kew became a Borough in 1863, a Town in 1910, and a City in 1921. The former City of Kew became part of a newly declared City of Boroondara in 1994. This very fragile document records the following information about streets in Kew - Name, Total Width, Width of Carriageway, Description, Government Gazetted - Year & Page.
Significance
While the names of streets was formally acknowledged and published in the Victorian Government Gazettes, the document, compiled by a public officer, probably in the Town Clerk's Department, is the earliest known local record listing street names in the Borough, and later Town then City of Kew. The front page indicates that in 1865, the responsibility for an initial 36 streets in Kew was taken over by Council. The final annotation in the document was made in 1937. The document is an important record for researchers seeking to understand the naming of streets in the district.
Inscriptions & Markings
Handwritten document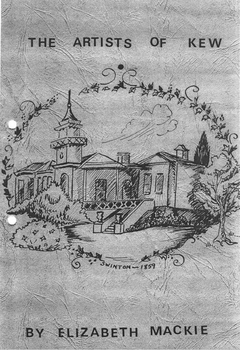 Book - The Artists of Kew / [by] Elizabeth Mackie
Kew Historical Society Inc, Kew
Self-published book by Elizabeth Mackie, member of Kew Historical Society Inc, listing and describing the 'Artists of Kew'.