Sorrento/Portsea RSL Sub Branch
Sorrento, Victoria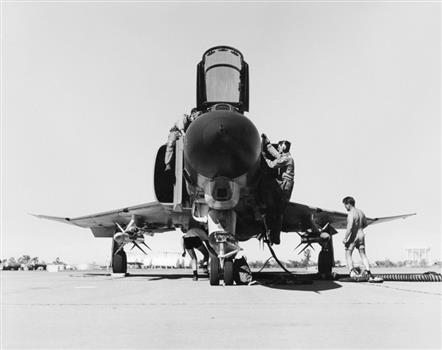 photograph - F4E at RAAF Darwin
Sorrento/Portsea RSL Sub Branch, Sorrento
F4E at start up RAAF Darwin tarmac.Armed with Sidewinder and Sparrow missiles. Photograph taken from the aircraft nose showing raised cockpit canopies,groundcrew and aircrew readying the airrcraft for flight. Note air start is connected Aircraft Serial No. A69-217.
Historical information
The F4E depicted was tasked to 'cold soak" Sidewinder and Sparrow missiles in the troposphere at 53,000 feetabove Darwin in a joint exercise for the RAAF and the United States Navy in 1972.The aircraft is being readied for flight by the aircrew and ground crew at RAAF Darwin.