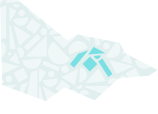 About
A multipurpose contemporary venue, Arts Space Wodonga is both accessible and professional in its applications. The unique design optimises new presentation methods and audience access as well as supporting adaptive functions - making it an ideal venue for the presentation of diverse and changing art forms. The eclectic program ranges from contemporary visual exhibitions to historical displays. Arts Space Wodonga has a prominent CBD entrance and expansive opening through from the Wodonga Library - bringing new audiences into a gallery style setting. Its proximity to the Wodonga Youth Service also makes it popular with young audiences.
Our collection
Arts Space Wodonga is a vibrant and accessible contemporary arts venue situated in the central business district of Wodonga.
It offers an electric program of unique exhibitions, intimate performances, workshops, recitals and forums; featuring local, regional and imported cultural works.
A showcase of dynamic art works by North East Victorian artists' features regularly; and proposals are welcome from individual artists and organisations.
Interested community members can volunteer at Arts Space Wodonga if they have a love of art and galleries, and would like to give back to their local community.
- See more at: http://www.wodonga.vic.gov.au/leisure-arts-visitors/arts-culture/arts-space.asp#opening