Burrinja Cultural Centre
Upwey, 3158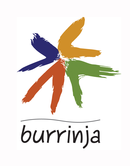 Burrinja is a vibrant community cultural centre in the Dandenong Ranges that encompasses performing and visual arts programs. Burrinja offers several exhibition spaces, a performing arts space, a professional 400-seat theatre, artist studios, workshops spaces and a cafe. Burrinja provides a varied program of activities and events including Indigenous cultural exhibitions and education, contemporary art exhibitions, performances art programs, educational activities and workshops, and live music. Burrinja is the operational name for the Dandenong Ranges Community Cultural Centre Inc. The centre is a not-for-profit arts organisation, incorporated in 1999. Burrinja is governed by an independent Committee of Management, that includes Yarra Ranges Council representation.
Links
Contact Information
Opening Hours
Tuesday - Sunday 10.00 am - 4 pm
Entry Fee
free (fees apply to some exhibitions)
Location
Cnr Glenfern Rd and Matson Dr Upwey 3158
View on Google Maps
The McLeod Gift Collection, managed by Burrinja, on behalf of its owner, Yarra Ranges Council, is a rare collection of Aboriginal and Pacific art. Two-thirds are Aboriginal art including bark and canvas paintings, drawings and obeject from predominately Central Australia, the Kimberley and Arnhem Land. The reminder are ceremonial objects from New Ireland and New Britain provinces in Papua New Guinea.
Significance
The Collection reflects on the collecting activities by photographer, artists and Dandenong Ranges resident Neil McLeod. Many of the items in the Pacific collection were collected by McLeod on one of his many field trips to New Guinea where he purchased or commissioned the works. Most of the objects in the Pacific Collection originate in the post-independence period of New Guinea, with some works produced by master carvers including Ben Sisia, Edward Sali and Hosea Linge. McLeod maintains on-going relationships with some of the families of the artists, and is a regular visitor to the country.

Likewise the Aboriginal art collection was gathered in the 1990s when McLeod visited the Kimberley and Arnhem Land, and developed strong relationships with some of the artists and their families represented in the collection, namely Rover Thomas, Queenie McKenzie, Jack Dale, David Mowaljarlai, Jonathan Kumintjarra Brown and members of the Nganjmirra family, including Nawakadj (Bobby), Alex and Eva.

Several of the works were produced at McLeod's studio in Tecoma, which at times was 'an artists' colony in the hills', also includes local resident Lin Onus, Kordelya Zhansui Chi and many others.