Darebin Parklands Association
Alphington, Vic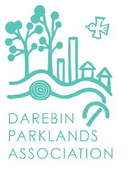 An environmental friends group of Alphington, Ivanhoe and Fairfield residents dedicated to the care of the Darebin Parklands.
Links
Darebin Creek Management Committee - "The DCMC consists of 11 members who represent the four city councils, Banyule, Darebin, Whittlesea, Yarra and La Trobe University. The parklands division manage, maintain, educate and revegetate the Darebin Parklands, whilst the co-ordination division plan, advise, liaise, and comment on a range of issues that effect the creek and its linear parklands." -- dcmc.org.au
DPA on Facebook - Catch up with what is happening in the park.
Contact Information
The collection consists of meeting minutes, newsletters, grant applications, photographs etc., dating from 1973
Significance
Historical record of the beginnings of the Darebin Parklands and its role in the community. Documents the efforts of the citizens of Ivanhoe, Alphington and Heidelberg -- the Darebin Parklands Association (DPA) -- and rangers from the DCMC to maintain and preserve nature and wildlife for residents to enjoy in Melbourne's inner-north.