El Dorado Museum Association Inc.
El Dorado, Victoria

The El Dorado Museum collection is sited in the original schoolhouse number 246 which opened in 1870. The school rooms and out-sheds house a large variety of items such as social and domestic purpose items.

Gold and tin mining relics from the Cock's El Dorado Gold and Tin Dredge and Cock's Pioneer sluicing are on display as well as information on various mines in the area with some photographic history of the mining from 1850 until 1950. Agricultural implements can be viewed in and around the big shed.

A Blacksmith's shop has a fireplace, bellows, anvil, hammers and other tools, horseshoes. There are also woodworkers hand tools, saws, and mining implements. Genealogy is available from school records, cemetery records World War One records and some photos, lodge and church records, and mining records. The museum has war memorabilia ranging from helmets and medals to souvenirs and bayonets.

Children's treasure hunt activities are available with some hands on items to try out as well. They can have a go at gold panning and keep any gold that they discover.
Contact Information
Opening Hours
Sunday 2:00 pm- 4:30 pm Most Public Holidays 10 am - 4:00 pm (Except Good Friday and Christmas Day)
Entry Fee
Adults $3 School aged children $2
Location
136 Main Street El Dorado Victoria
View on Google Maps
Mining, farming and social history from 1850s to 1950s. Tools, ornaments, furniture, gemstones, mining equipment, vehicles, machinery, documents, clothing, crockery, ephemera, school items and records, war items, money, household goods,
Significance
The collection has been assessed in 2009 as having items of both local and state significance.
Photograph - Red Cross Carnival 1916
El Dorado Museum Association Inc., El Dorado
Black and white photograph of Red Cross fundraising carnival in Wangaratta​ with 'ELDORADO Will Be There' banner and mine sluicing nozzle rigged on a pair of sulky wheels as a field gun.
Historical information
El Dorado Red Cross began in 1914, and was one of the earliest to be established in Australia.
Inscriptions & Markings
"C.1916 RED CROSS CARNIVAL" at bottom.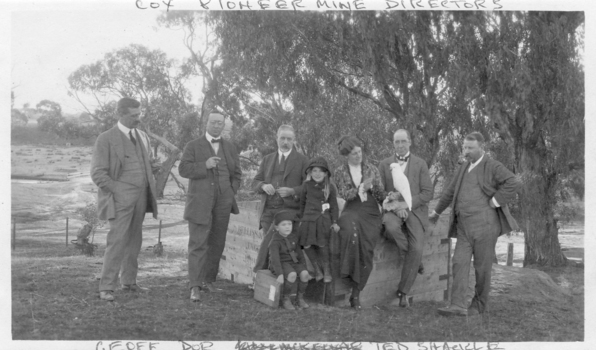 Photograph
El Dorado Museum Association Inc., El Dorado
Black and white photograph of Cocks Pioneer Gold & Tin Mines NL directors with Mrs Molly Moline and children, Dorothy and Geoff. Taken at Sherwood - the mine manager's residence. (1914)
Historical information
Cocks Pioneer Gold and Tin Mines NL (1914-29 and 1934-41) carried out large-scale hydraulic sluicing - electronically driven from power generated at a ​steam power plant. The mine was the second highest dividend-paying mine in Victoria in 1935, with a total gold production of 3,560 kg.
Inscriptions & Markings
"COX PIONEER MINE DIRECTORS" top "GEOFF DOR (unclear) TED SHACKLE" bottom