Landsborough & District Historical Group
Landsborough, Vic. 3384
Landsborough & District Historical Group
Contact Information
Opening Hours
On request.
Entry Fee
Gold coin donation.
Location
McKinlay Street Landsborough Vic. 3384
View on Google Maps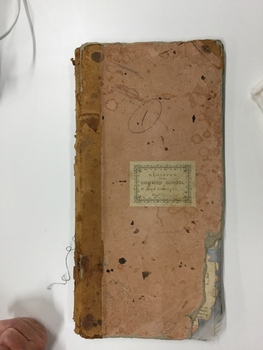 School Books - Register of Common School at Landsborough No. 710
Landsborough & District Historical Group, Landsborough
Leather Bound Book retangular shaped, beige cardboard cover, with label in center. Containing Paper Pages
Historical information
Compiled by Teachers of Landsborough Common School 1864-1868. Includes childrens names, parents name, childs date of birth entrance date to school parents occupation.
Significance
List of names, dates etc. of Landborough's inhabitants over the early years of its settlement. Shows trades and occupations of early goldmining township
Inscriptions & Markings
Register of The Common School at Landborough No 710