Sebastopol & District Historical Society
Sebastopol, Victoria

Displays of photographs back to the mid 1800's, family histories, relics and maps from the gold mining era, etc.
Contact Information
Opening Hours
First Sunday of the month. 2 - 4 pm
Entry Fee
A donation to the society would be appreciated if you are just wanting to take a look around, if you want to research or the society to do research for you, a $20 fee applies.
Location
185 Yarrowee Street Sebastopol Victoria
View on Google Maps
The society has a wonderful collection of historical items ranging from the middle 1800s to current time. We have a family history section that is being added to constantly, which is of great help to many of our visitors who are researching their family history or other related research. Some of the topics that can be researched are, mining, local schools, Borough of Sebastopol memorabilia, photos, furniture that came from the Borough, many items from former residents of Sebastopol.
Brass blotter
Sebastopol & District Historical Society, Sebastopol
This rocking-style blotter has an unusual artistic handle of brass, with a punched panel and fine decorative trim.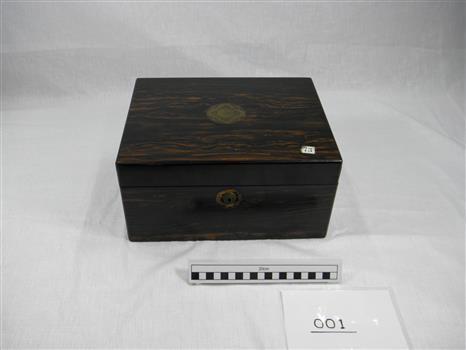 Writing Box
Sebastopol & District Historical Society, Sebastopol
Portable Writing Box. A wooden box with a hinged lid which opens to form a sloping writing desk, with inset purple velvet writing surface decorated in gold with an inscription. Writing surface is hinged & opens to 2 large storage compartments. Exterior veneered in dark figured hardwood. Circular lock at frontwith missing circular escutcheon. Top includes inlaid brass circular medallion. surface:
Historical information
This box was presented to Miss Clark in recognition of her services as Organist at the Wesleyan Church Sebastopol, Victoria. It was presented in September 1885. Wm Williams . Minister
Significance
Historical & Personal significance both to the Wesleyan Church, Sebastopol Victoria & the Clark family.
Inscriptions & Markings
Interior, inscription written in gold on purple velvet writing surface. "Presented to Miss Clark,by the Trustees of the Wesleyan Church, Sebastopol,in grateful recognition of her faithful and efficient services as Organist. Wm. Williams, Minister. September 1885.