Telstra Museum, Melbourne
Hawthorn 3122, VIC
The purpose of Telstra's Heritage Collection is to ensure that Australia's telecommunications history, as represented in the Collection, is preserved and made available for access. The Collection is managed by an affiliated volunteer organisation.
Contact Information
location

375 Burwood Road Hawthorn 3122 VIC

phone

+61 (03) 9819 1199
Opening Hours
Open on the last Wednesday of each month 10am - 3pm. Other days can be arranged by appointment, based on volunteer availability.
Entry Fee
By Donation
Location
375 Burwood Road Hawthorn 3122 VIC
A collection that reflects the history of Telstra from its beginnings in the 1850's encompassing pre-Post Master General's Department (PMG), Telecom Australia, AOTC and Telstra.

The collection presents the development of communications in Australia with items that, through their story, represent the interaction of communication technology and the social and political developments throughout the history of Australia.

The collection includes material dating from the 1840's ranging from 19th century telegram boys' bags and horse drawn vehicles, audio visual material, telegraph and telephone equipment, scientific equipment, photographs, books and ephemera.
Significance
The Telstra Museum collection provides a comprehensive historical record of telecommunications in Australia. Items held are representative of key developments and many are rare examples of Australian invention and manufacture.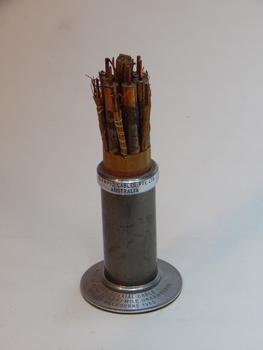 Souvenir cable
Telstra Museum, Melbourne, Hawthorn 3122
A 6 tube copper coaxial cable with lead sheath, quad 20lbs conductor cable (paper insulated), and a presentation metal collar and base. Inscriptions around the top of the metal collar and the base.
Historical information
Construction on the Sydney Melbourne coaxial cable began in 1960 and was one of Australia's biggest and most important telecommunications projects of the 20th century. The laying of a coaxial cable between Sydney, Canberra and Melbourne, allowed people to direct dial long distance phone calls (rather than operator assisted), and supported simultaneous television broadcasts for the first time. It was officially opened on 9 April 1962 by the then Prime Minister, Sir Robert Menzies. This souvenir coaxial cable was presented to Mr Roy Kerr on his retirement. Mr Kerr was the Assistant Chief Engineer, Headquarters Customer Networks Branch, Telecom Australia.
Inscriptions & Markings
"OLYMPIC CABLES PTY. LTD / AUSTRALIA" "6 TUBE COAXIAL CABLE / WITH 32 PAIRS 20LBS/MILE UNARMOURED / SYDNEY MELBOURNE 1960"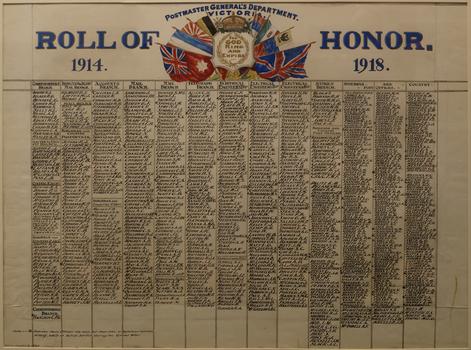 Honour board - Roll of Honour 1914 - 1918
Telstra Museum, Melbourne, Hawthorn 3122
Handpainted paper on linen honour board, perspex glazed with a wooden frame.
Historical information
An honour board commemorating Victorian Postmaster General's Department workers who served in World War 1. A total of 3,726 employees of the Postmaster General's Department enlisted in the Australian Imperial Expeditionary Forces during World War 1. This represented about one in every five of the total number of men employed by the Department. Many other employees volunteered, but were rejected for health or other reasons, whilst men in key positions could not be spared. This board was displayed at the Spirit of ANZAC Centenary Experience, Melbourne, in February 2016.
Significance
An unusual example of honour board that is handpainted on paper and is comprehensive in including the names of those who served from Victoria. The museum holds a black and white photograph dated 1919, that shows an image of the honour board in progress, with only half of the names present.