Geelong RSL Sub Branch
Belmont, Victoria

Geelong RSL
Contact Information
location

Geelong RSL Sub-branch 50 Barwon Heads Road Belmont Victoria 3216 (map)

phone

+61 (03) 5249 2444
Opening Hours
Monday 9:00am – 12:00am Tuesday 9:00am – 12:00am Wednesday 9:00am – 12:00am Thursday 9:00am – 2:00am Friday 9:00am – 2:00am Saturday 9:00am – 2:00am Sunday 10:00am – 12:00am Public Holidays Open 24 hours
Entry Fee
No entry fee.
Location
50 Barwon Heads Road Belmont Victoria
View on Google Maps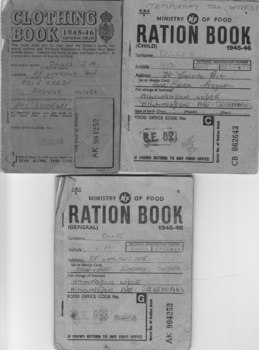 Ration and Clothing Books J A Ollis
Geelong RSL Sub Branch, Belmont
Two Ration Books and one Clothing Book. The books are oblong, cardboard and paper. One ration book is green one a buff Colour. The Clothing Book is pink.
Historical information
These books were issued to J A Ollis for the period 1945/46.
Significance
These are the original books that were issued to J A Ollis
Inscriptions & Markings
The books have been issued to J A Ollis Bognor, Sussex, and later of Sevenoaks.