Geoffrey Kaye Museum of Anaesthetic History
Melbourne, Victoria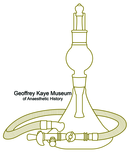 Dr Geoffrey Kaye established a museum from his private collection of anaesthetic apparatus in 1946.

The Geoffrey Kaye Museum of Anaesthetic History is now part of the Australian and New Zealand College of Anaesthetists. The museum showcases over 170 years of advances in anaesthesia and pain medicine, and is one of the largest and most diverse collections of its type in the world.
Links
Contact Information
Opening Hours
Monday - Friday, 10am - 4pm Bookings are essential
Entry Fee
Free entry
Location
ANZCA House 630 St Kilda Road Melbourne Victoria
View on Google Maps
The collection focuses on the development of anaesthesia practice from its beginning, in 1846, through to contemporary practice. A number of related medical specialties are also represented in the collection, such as pain medicine and hyperbaric medicine. The collection focuses on the equipment, apparatus and instruments designed for advancement in practice, as well as the lives and contributions of the many individuals who have grown the specialty.
Significance
The museum's collection looks at the history of anaesthesia and pain medicine, as well as other related medical specialties. It allows us to follow the transformation from an unskilled and unreliable art into a highly scientific medical specialty.