Supreme Court of Victoria Library
Melbourne, Victoria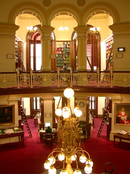 The library serves the legal profession and is located at the heart of the Supreme Court House complex.
Contact Information
Opening Hours
Monday to Thursday 8.30am to 6pm Friday 8.30 am to 5pm
Location
210 William Street Melbourne Victoria
View on Google Maps
The Supreme Court library has well over 120,000 volumes, and is one of the largest law collections in the State. There are extensive series of law reports from all Australian jurisdictions, as well as from various other countries. There is also a large collection of statutory material, textbooks and periodicals. The oldest textbook is Statham's Abridgement, printed in 1490. The Library has, however, not neglected modern technology and has access to many commercial databases on the Internet, available to Judges in their chambers and all library users. In addition, the library has a collection of artworks and objects relating to the Supreme Court, judges, and the legal profession.
Significance
The Supreme Court library is of historic significance as one of the oldest and continuous libraries in the State of Victoria. Sir Redmond Barry was instrumental in its creation at the same time as he was creating other important cultural institutions, including the Public Library, art gallery and the University. The first thirty years of the library?s existence was marked by the involvement and interest of Barry who helped select and purchase books for the library as well as donating a number of his own volumes. The library?s collection of 19th Century legal texts as well as its continuing role as a law library are significant for their rarity and breadth of the collection. Its art and objects collection relates to the legal profession and is also significant, relating as it does to significant figures in Victorian History.